Well friends, Beth and I have had a wonderful time at Market. Here is a picture of her quilt made with her line, Marguerite, hanging in the Windham booth. I'm so proud.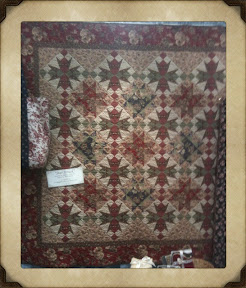 We're so excited to come home and show you all the wonderful things we found! We get back Monday late afternoon so everything should be in the store on Tuesday. Come see us and we'll show you everything!
We found out today that Pam, Karen, Tara Lynn Darr, and Beth and I are all on the same flight tomorrow. My son said he hopes there's an air marshall on our plane. Party pooper.
See you soon!
- Posted using BlogPress from my iPad